Uniroyal Tyres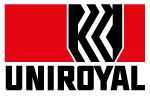 ERROR: We don't seem to be able to find information on your vehicle.
Please use our tyre-size search facility to find the right tyres for your vehicle. Thank you!
Uniroyal tyres Uniroyal tyres - tough on aquaplaning
Uniroyal tyres
Tyre manufacturer Uniroyal is part of the Continental group and is considered the inventor of "rain tyres". Ever since 1895, the Belgian manufacturer has been producing tyres that meet highest expectations. Outstanding focus is put on Uniroyal tyres to show great driving properties in wet surroundings.
Uniroyal tyres - tough on aquaplaning
In dry surroundings, Uniroyal tyres also show great grip, of course. Nevertheless, on wet roads, they are among the best products on the tyre market. This applies to avoiding aquaplaning and when driving on corners with puddles or snowy slush in winter. The first class performance on wet roads is confirmed time and again by Uniroyal tyres' outstanding test results.
Uniroyal tyres - highly recommended
Each Uniroyal tyre's tread pattern shows wide grooves for especially effective water dispersion. This enables safe driving behaviour in wet surroundings as well as shorter braking distances. Thanks to their low rolling resistance, Uniroyal tyres offer significant savings when it comes to fuel consumption. In their 2012 tests, German magazine "Auto Motor Sport" and the largest German Automobile Association ADAC awarded special praise when classifying Uniroyal tyres as "highly recommendable" for their excellent driving properties.