Uniroyal RainSport 3 tyres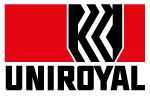 ERROR: We don't seem to be able to find information on your vehicle.
Please use our tyre-size search facility to find the right tyres for your vehicle. Thank you!
Uniroyal Rainsport 3
When the new Uniroyal Rainsport 3 arrived on the market, it was clear straight away where its strengths would lie: Continental-owned brand Uniroyal has a years-long reputation for developing outstanding "wet tyres". The wet slalom track at the testing ground is nothing more than an everyday drive in the rain for Uniroyal tyres - and is handled with the same level of superiority. Tested in size 205/55 R16 91V by editors of German magazine "Auto Motor Sport", the Rainsport 3 was rated "recommendable" - not only on account of its excellent performance on wet tarmac, but also its good stability on dry roads. No competitor could match the tyre's best lap time or its minimised rolling resistance.
A rain specialist full of innovative technologies
The tread of the Rainsport 3 is flow-optimised, with Shark Skin Technology to suppress water turbulence on the surface of the grooves. Both features contribute to its safe driving behaviour in wet conditions and minimise the risk of hydroplaning. In order to ensure a short wet braking distance, Uniroyal has furnished the Rainsport 3 with a high number of sipes, which function as gripping edges and maximise road contact. On corners, the high stiffness of the shoulder blocks ensures effective transfer of lateral forces, whilst at the same time offering enough flexibility to maintain optimal levels of contact with the road.
Convincing off-road performance
Motorists have also begun to place emphasis on the driving comfort of a tyre, which is mainly determined by its noise levels. Uniroyal has worked wonders in this regard, too, with a minimal rolling resistance that results not only in quiet performance but in even wear and a longer service life. When fitted to SUVs, the Rainsport 3 can more than live up to the challenges of an off-road vehicle, as proven by German magazine "Autobild allrad" when it tested the tyre in size 255/55 R18 109Y XL.
Alongside the above-mentioned strengths, testers praised the Rainsport 3's low price and were amazed by its capabilities in mud, where it demonstrated 2.5 times more traction force than the weakest tyre in the test. The Uniroyal Rainsport 3 is available in sizes from 14 to 21 inches, with all sizes carrying an "A" rating for wet grip on their EU tyre label. Order your new summer tyres in our online shop today and benefit from our free shipping policy on orders of two tyres or more.