Michelin Pilot Sport 5 225/50 ZR17 (98Y) XL
Delticom Product Description

Unleash the Power of MICHELIN Pilot Sport 5: Elevate Your Driving Experience!
Hey there, fellow drivers! Buckle up because we're about to take your driving experience to a whole new level with the incredible MICHELIN Pilot Sport 5 tyre.
Say Goodbye to Tyre Worries: MICHELIN Pilot Sport 5's Longevity Takes the Crown! You know how sometimes you wish your tyres could last forever? Well, the Pilot Sport 5 is here to make that wish come true. It's like a superhero among tyres, designed for awesome longevity and high-performance action. So, you can kiss those frequent tyre changes goodbye and enjoy the ride for miles and miles.
Precision Steering Perfected: Get in the Driver's Seat with MICHELIN Pilot Sport 5! Let's talk about handling – this baby knows how to react like a pro! With its Dynamic Response Technology, it's like having a personal assistant for your steering. It listens to your commands and responds with lightning-fast precision. So, whether you're taking tight turns or cruising down the highway, you'll feel like a driving wizard.
Grip Like a Pro: Conquer Wet and Dry Roads with MICHELIN Pilot Sport 5! And speaking of magic, how about that grip? The Pilot Sport 5 has got your back on wet and dry roads alike. Its Dual Sport Tread Design has an inner side that's like a water wizard – it whisks away those raindrops and keeps you glued to the road. On the outer side, it's got sturdy blocks for a serious grip on dry surfaces. No more slipping and sliding – just pure driving confidence!
Style and Substance Combined: Embrace Elegance with the MICHELIN Pilot Sport 5 Tyre! Oh, and let's not forget the looks. You know how important it is to roll in style, right? Well, the Pilot Sport 5 delivers in that department too. Its Premium Touch Sidewall Design gives it a sleek matte-black appearance with a velvety texture – it's like the James Bond of tyres!
Drive with Confidence: MICHELIN Pilot Sport 5's Reactive Performance on Point! But wait, there's more! The Pilot Sport 5 comes with a nifty little feature called the Wear2check indicator. It's like having a built-in tyre wear detective. You can easily check and monitor your tyre's condition, so you know when it's time for a change. No more guessing games – just smart and safe driving.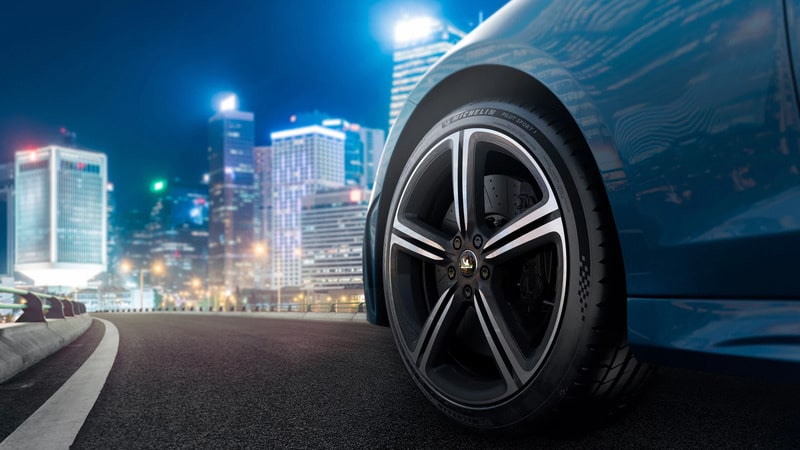 The Future of Tyres: Discover the 5th Generation MICHELIN Pilot Sport 5!
So, there you have it, folks – the MICHELIN Pilot Sport 5 tyre is the ultimate driving companion. Long-lasting, super-responsive, with unbeatable grip, and it looks darn good too. Say goodbye to boring drives and hello to thrilling adventures on the road. Don't wait – rev up your ride with the Pilot Sport 5 and take your driving game to the next level! Ready to experience the magic of the MICHELIN Pilot Sport 5 for yourself? Head over to mytyres.co.uk and grab your set of these affordable high-quality tyres today. Elevate your driving experience with the best, and let the Pilot Sport 5 redefine how you hit the road!
Business Reviews
Profile:Pilot Sport 5
| Review Date | Test Facility | Dimensions | Review Text | Review Rating | Seal |
| --- | --- | --- | --- | --- | --- |
| 04/2022 | Tyre Reviews | 225/50 ZR17 (98Y) XL | Highly recommended | | |
* List prices, when available, provide a net basis for calculating sales prices between tyre manufacturers and their distributors. In no event are they selling prices that are paid or customarily paid.
**Prices include VAT and delivery within mainland UK (excl. Scottish Highlands).