Michelin City Pro 80/80-16 RF TT/TL 45S M/C, Front wheel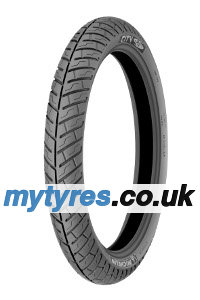 Please note: Prices apply to tyres without rim. Depending on the tyres dimension, the tread pattern may vary.

Michelin
City Pro
80/80-16 RF TT/TL 45S M/C, Front wheel
Tyre size
80/80-16 RF TT/TL 45S M/C, Front wheel
Change
recommended retail price
*
&nbsp £ 49.50
only
£ 28.46
Reasons for mytyres.co.uk
Over 2,100 fitting station partners
Extremely robust MICHELIN City Pro tyres that provides great puncture resistance in any conditions and are long-lasting too.
Puncture resistant
Thanks to MICHELIN OVERLAP TECHNOLOGY (MOT), it is unlikely that these tyres will get a puncture. Across 48 motorcycles that had covered a total of 400,000 kms, only 4 punctures were reported.
Last 10% longer than their main competitors.
Even more improvement over the MICHELIN M35 tyre, a new rubber compound means that the MICHELIN City Pro's useful life is now 10% longer than its main competitor. Their average lifespan is around 30,000 kms at the front and 20,000 kms at the back.
Grip on damp surfaces
Because of their central groove, wheat-ear pattern and variable tread depth depending on the angle of the motorcycle (30% in the centre and up to 35% on the shoulders), MICHELIN City Pro tyres now displace water even more effectively.
* List prices, when available, provide a net basis for calculating sales prices between tyre manufacturers and their distributors. In no event are they selling prices that are paid or customarily paid.
**Prices include VAT and delivery within mainland UK (excl. Scottish Highlands).