Dunlop Sportsmart TT 170/60 ZR17 TL (72W) Rear wheel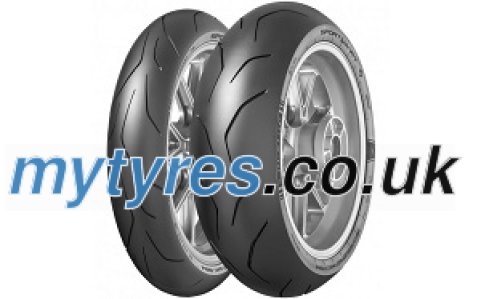 Please note: Prices apply to tyres without rim. Depending on the tyres dimension, the tread pattern may vary.

Dunlop
Sportsmart TT
170/60 ZR17 TL (72W) Rear wheel
Tyre size
170/60 ZR17 TL (72W) Rear wheel
Change
Speed Index
Approved
up to over 168 mph
European Production
recommended retail price
*
&nbsp £ 270.00
only
£ 189.76
Reasons for mytyres.co.uk
Over 2,100 fitting station partners
Ultimate performance on your favourite roads or the most demanding of tracks.
SportSmart TT bridges the gap between the current hypersport family and the pure track biased GP Racers, making the SportSmart TT the ultimate tyre to push the boundaries of hypersport road tyres.
Using our experience gained whilst developing our latest racing tyres, the SportSmart TT features an all new front mould profile, which combined with the intricately tuned compound compositions will provide extreme levels of grip and unknown levels of confidence to the latest hypersport bikes and supernaked riders. Whether they are touring their favourite back roads or looking to set a new personal lap record on the track, SportSmart TT rewrites the book on hypersport road tyre performance.
Rare balance between reduced steering effort and optimum turn-in grip
Optimum grip achieved through the introduction of Speed Vent Tread (SVT)
Reassuring and fun handling on the road, and race-tyre like performance on the track
Long lasting and consistent performance in a wide variety of circumstances, providing safe grip, both on the road and on track
The dynamic front mould profile shape has been revised to meet the needs of demanding road riders and extreme track application. This finds the rare balance between lower steering effort and optimum turn-in grip, to give you enhanced feedback for supreme confidence in the front when braking and turning.
The new NTEC RT technology allows for tuning rear inflation pressures to optimise contact patch for a greater track performance by increasing mechanical grip and wear over a larger surface.
Speed Vent Tread (SVT) is the pinnacle of tyre design. SVT optimises the temperature control system of the tyre through the intricately calculated tread groove pattern, so that they open and close when the tyre turns to create a vent-like effect to improve heat dissipation.
Galvanised by Endurance racing, the newly developed Multi-Tread compound guarantees a longer lasting, consistent performance on the road and on the track.
* List prices, when available, provide a net basis for calculating sales prices between tyre manufacturers and their distributors. In no event are they selling prices that are paid or customarily paid.
**Prices include VAT and delivery within mainland UK (excl. Scottish Highlands).