Search by car: AUDI
Search by car:
Your car model may not be listed on the page or there can be a mistakes in the listed types. If you do not find your car type, please let us know.
Tyres Tailored for Your Audi
Tyres Tailored for Your Audi
The Audi tyres offer a driving behaviour adapted to the demands of your Audi. These tyres are developed by and for each vehicle model, following the strictest quality standards. They reduce noise and absorb irregularities of the road in an optimal way, making every drive more comfortable for everyone.
When it comes to efficiency, an area to which the brand always pays special attention, Audi tyres boast low consumption and consequently lower CO2 emissions. This is mainly due to their optimised tread area and excellent traction.
Tyres for Audi can be recognised by the letters AO (tyres approved by Audi, adapted to each model), AOE (Run-Flat tyres endorsed by Audi) and RO1 (tyres specially designed for the most sporty Audi RS and Audi R8)in relief, which are shown in the tyre profile and serve to define the three different product lines.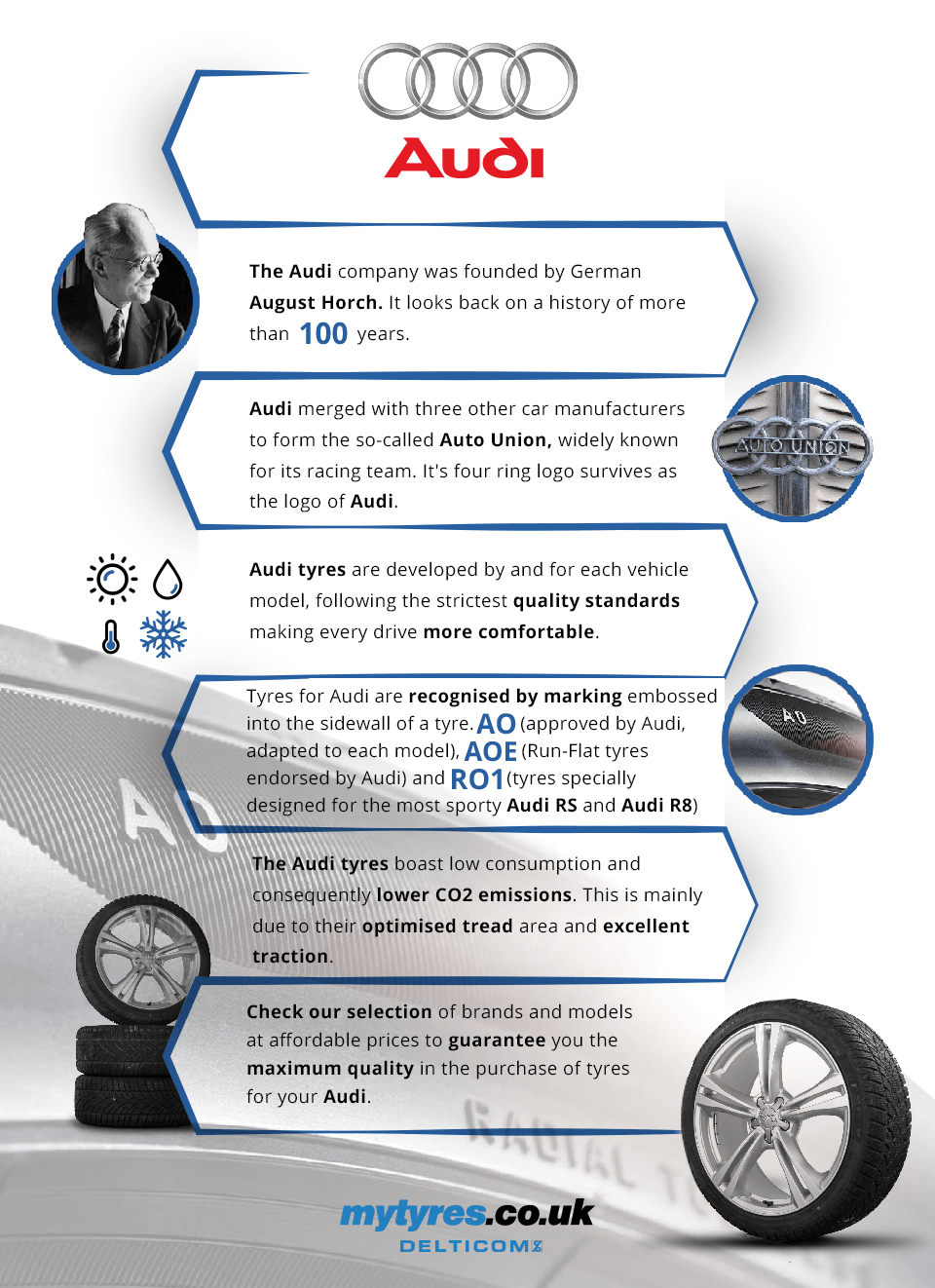 The Audi company looks back on a history of more than 100 years. Its founder was the German August Horch. Between the two world wars, Audi merged with three other car manufacturers to form the so-called Auto Union. Today, Audi produces cars with a modern and stylish design that most people find incredibly appealing.
Most tyre manufacturers, large and small, offer the right tyres for most vehicle models of the German brand. As specialists in tyres, we put at your disposal the best selection of brands and models at affordable prices to guarantee you the maximum quality in the purchase of your tyres for Audi.
Do you have any other questions? Do you need any further help?
We would like to help you find the suitable tyre for your car.